Play Now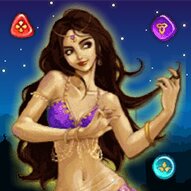 With Arabian Nights, you are about to get into a mystical adventure with everyone's favorite character Aladdin! He never knows how to stop himself from jumping from one adventure to another. Today, he is determined to complete all the tales of the mysteries of the Arabian Nights. So, what do you say now? Are you up for helping him with unleashing the secrets and complete the missions now?
Arabian Nights is a mystical match-3 adventure in which you will help Aladdin with unleashing the darkest secrets of the special objects. You have 6 different myths to solve. The first one is Alibaba & the Forty Thieves, and then you'll move to Aladdin's Lamp, The Fisherman & the Genie, Ali Shar Zumurrud, Sinbad the Seaman & Sinbad the Landman until The Sleeping King. In each level, you have an object to complete which you can see from the left top of the game screen. Match at least 3 of the same objects and let the pieces of the objects flow downwards. As you proceed, you will get various boosters and power-ups that you can check from the bottom of the game screen. You have limited time to complete the levels. The hourglass shows you the time left to complete the level. Don't forget to track it from the right top. Good luck now, and have fun playing!
If you are looking for more match-3 adventures as fun as this one, be sure to check our collection of free and online puzzle games by clicking here and continue the missions on behalf of Aladdin!
Developer
Agame developed this game.
Release Date
May 3, 2017
Features
2D colorful graphics
6 adventures to complete
Various power-ups to collect
Fun and addictive backstory
Controls
You can use your mouse to play this game.