Play Now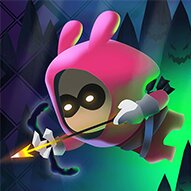 In Arrow's Adventure, it is time to enter the dungeon and eliminate as many monsters as you can! Gather all your courage and unleash your inner hero! Do you believe you can see the end of the adventure? Then let's jump into the game and see the truth! Good luck!
'' The purpose of life, after all, is to live it, to taste experience to the utmost, to reach out eagerly and without fear for a newer and richer experience.'' And now it is time for you to experience being a hero! If you can use your arrow in the right way, nothing can stop you! Your goal is easy. To unlock the treasure chests along the road and journey farther into adventure, you must defeat all of the enemies. Use the arrow keys to control your character. When you see enemies approaching, stand still and your character will automatically begin shooting. Don't be fooled by their attractive appearance. They'll throw fireballs at you and do whatever it takes to bring you down. Other supernatural forces, on the other hand, will help you in your journey. When you open treasure boxes, you'll have the option of selecting one of two boosters, such as shields or attack speed. You can also buy upgrades with the money you earn after each kill. Best of luck!
Do you want to play more games like this one? If so, take the different challenges in our collection of free and online adventure games.
Developer
Go Game Pte Ltd. developed Arrow's Adventure.
Release Date
July 02, 2021
Features
An endless level
Boosters to collect
Upgrades to buy
Fun and addictive gameplay
Controls
You can use the arrow keys to control your character.