Assassin's Creed Freerunners
Play Now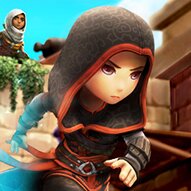 It's time to meet your favorite Assassin's Creed characters for one more run with Assassin's Creed Freerunners! Ezio, Eivor, Altair; you can be any character in this universe and challenge other fans from all around the world in parkour races! Choose between two main game modes and try to reach the finish line first, or run from a death wall through an endless track full of obstacles!
All characters have different features when it comes to speed, acceleration, and climbing. But since you are running against real players, there is no such thing as impossible. Wait for your opponents' mistakes and pass them with the help of your reflexes. Perfect your timing at climbs and jumps, earn gold while doing so, and unlock more skilled characters to combine your improved reflexes with. Check the global scoreboard and set a goal for yourself for motivation. Shuffling between modes is fun, but if you are looking to make some money, try to make it to the leap of faith at the end of the classical run to fall through coins! Unlock new characters, master double jumps, and trampolines, and write your name on the top!
If you enjoy this online obstacle run, you can check out other adventure games by clicking here!
Developer
Ubisoft developed Assassin's Creed Freerunners.
Release Date
February 14, 2022
Features
World-famous characters
Easy controls
Played by gamers worldwide
Different game mode options
Controls
You can use your mouse or spacebar to jump, double jump, or interact with obstacles.