Play Now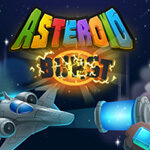 With Asteroid Burst, be prepared for a new exciting space adventure! You can think of this game as a bubble-shooting game with a more thrilling space theme and catchy modifications making it more sophisticated. With various asteroids of pre-selected colors, how long will you be able to survive before your spaceship gets crushed in this fascinating galaxy?
You are on a secret mission to protect our planet from the big colorful asteroids. You have to destroy them before it is too late. So, get into your spaceship and get ready to shoot your targets coming on your way. The objective of this game is simply to shoot the asteroids by matching the colors. Your spaceship is launching mini asteroids to destroy the big clusters. But each shot has a pre-selected color. So, you have to shoot the same color clusters with your own shot by using the left-click. Check your current and following shot colors at the right bottom of the screen. If it is necessary, you can change your ammo by pressing the SPACE bar. You have 3 chances to get crushed. If you use up all three, you fail and restart the sector. Use the up arrow to accelerate before the clusters reach you. The fate of the universe is in your hands. Now, hurry up and start the game already!
If you want to try another launching colors game as fun as this one, then be sure to check Zumba Mania by clicking here.
Developer
Kizi developed this game.
Release Date
April 2018
Features
2D colorful graphics
Various colors to match
Multiple sectors to conquer
Entertaining and addictive gameplay
Controls
Use your mouse to shoot. The up arrow to accelerate and SPACE BAR to switch the colors.