Play Now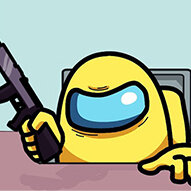 Crazy Shooter is your nickname from now on! Because, to shoot as you do, one has to be crazy! If you are boosted enough now, what do you say to point your weapon towards enemies and bring their end? Two tall buildings and two strong sides you'll see in this thrilling shooting game. But who's gonna be the survivor? Let's find it out now by clicking on the play button!
Put on your best armor and grab the weapons because we are going on a war! They say the residents of the building stole the food storage of the residents in the other building. We don't know if it's true or there is another reason for such a war, but there is no going back from now on. The first thing you should do is customize your armor and weapon. Then, you can take your place in one of the apartments in your own building. The enemies are watching you close, and the weapons are all directed at you. Click on the enemies to determine the direction and hold the left-click for constant shooting. You can change your place by clicking on the other apartments in the building. Each fight will earn you purple gems that you can use to unlock other customizations for your armor and weapon. Good luck soldier and watch your back!
Be sure to check our collection of free and online shooting games by clicking here to browse more thrilling fights and wars like this one.
Developer
YAD.Com developed Crazy Shooter.
Release Date
February 22, 2021
Features
2D colorful graphics
60 fights to win
Armor and weapon customization
Engaging and thrilling gameplay
Controls
You can use your mouse to play this game.