Play Now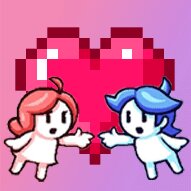 In Heart Star, get ready to join the lovers in an alternative pixelated world. Featuring fun gameplay and retro art style, this game will take you on a colorful adventure. Do you think you can make sure these lovers survive through each challenging level?
Can you feel the love tonight? These two souls love each other deeply and they are ready to join each other even in the most difficult situations. When two souls are united as one, there is nothing you can do to stop them. So, you might as well join them on this adventure and navigate them through this colorful world. Your objective is to reach the portal in each level by passing through the obstacles. The world is made up of different platforms in different colors. You have two characters to control. The boy is blue and the girl is pink. When we said they are united as one, we meant it. These two only have one life and they share it. To reach the end, you need to control both. The blue hero can walk on the blue platforms and the pink one on the pink platforms. You can get the help of the other character by jumping on them when the platforms are too high to jump. You can also carry the other person when they stand on your head. As the game progresses, you'll face more obstacles like spikes, but it's nothing you can't overcome. Have fun playing!
If you want to play another retro-styled game like this one, you can check out Bloo Kid 2. Enjoy!
Developer
YAD.Com developed Heart Star.
Release Date
May 03, 2021
Features
2 characters to control
Many levels to complete
Colorful 3D graphics
Fun and addictive gameplay
Controls
Use the arrow keys to control the characters. Up arrow key to jump. G to change between the characters.