Bob The Robber 4: Season 2
Play Now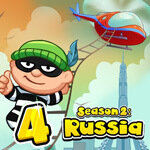 In Bob the Robber 4: Season 2, our resourceful thief character is continuing traveling around the world in a hunt for lucrative opportunities and valuable treasures. This time, he's visiting Russia and is keen on leaving this country with a big profit. Join him on his heist, and help him complete multiple levels in this wildly popular and addictive game.
Wear your gloves, put on your mask, and try to be silent as you sneak around in different buildings. The objective of this game is to complete each level by stealing the target treasure without getting caught. The lockpicks and the shadows are your best friends in this game. Featuring 13 different levels, be prepared for tense moments! Start the game by clicking on the play button on the main menu. Next, pick the first level to start your exciting journey. In each level, you'll encounter different obstacles. From grumpy guards to locked doors, there are many challenges you'll need to tackle to reach the treasure. Use the left and right arrow keys to move. To interact with objects, you can use the up arrow key. When you see a shaded location, you can hide there by standing still. When you're hidden, guards and security cameras can't spot you! Good luck on your heist, and have fun!
Bob's next adventure takes him to Japan! Click here to play the next game in this popular series, Bob the Robber 4: Season 3. Enjoy!
Developer
Kizi developed Bob the Robber 4: Season 2.
Release Date
November 30, 2017
Features
13 different levels to complete
Fun and stealthy gameplay
Intuitive controls
Different treasures to steal
Colorful 2D graphics
Controls
You can use the arrow keys to play this game.