Play Now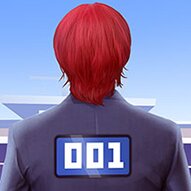 Let the deadly games begin once again with Squid Challenge 2! While the whole world knows how difficult it is to survive these games, they doubled up the challenge, and now you have to play harder to get out of here alive! Can you fill the piggy bank by making others fall and return home with the prize money?
You are supposed to survive a total of six levels to win. There are new challenges next to the famous and old ones like Red Light Green Light and the cookie challenge. The first level throws random heavy objects at you. You are expected to dodge these objects while running to the finish line. Avoiding them while running to their sources might seem hard at first, but you can keep an eye on the doors' movements and move accordingly. The second race shows you the placement of shapes and requires you to memorize them in order to survive. The third game is basically a jump and duck with a gigantic blade in the middle. The next three levels are the most loved games of the first challenge: the cookie race, Red Ligh Green Light, and the final fight. Rise through the games, try until you make it, and become a legend in the Squid Challenge history!
If you like these survival games, you can check out Squid Challenge Glass Bridge and try your luck with another famous challenge!
Developer
OneTwoPlay developed Squid Challenge 2.
Release Date
February 15, 2022
Features
Colorful 3D graphics
Easy to play
3 new challenges
Leaderboards
Available on mobile devices
Controls
You can use your mouse to play this game.