Play Now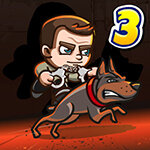 In Money Movers 3, the series takes a different turn and places you in the place of a guard. Featuring multiple levels, are you ready to capture the fugitives and place them back in their cells? Take your trusted dog with you and show no one can escape on your watch!
A lazy evening got eventful when the alarms went off. The other guards grabbed weapons and you're left with a handcuff. Luckily you have your trusted dog by your side. The objective of this game is to complete each level by capturing all of the inmates with the help of your dog. You control both the guard and the dog in the game, so you can either play the game solo or with a friend by sharing the keyboard. The guard doesn't have a weapon so you should avoid approaching inmates alone. To capture them, you should scare them with the dog. No matter how brave and dangerous a prisoner is, none would dare to challenge a strong guard dog. When an inmate is scared, take the guard to them and bind them. Catch all the prisoners in a level and collect all the money bags to complete a level. Have fun!
Why don't you check the previous title in this fun series and take control of the criminal brothers? Click here to play the Money Movers 2. Have fun!
Developer
Money Movers 3 is developed by Meow Beast.
Release Date
November 2017
Features
Control a prison guard and his guard dog
20 levels to complete plus unlockable bonus levels
Colorful 2D graphics
Entertaining gameplay with different puzzles
Intuitive controls
Controls
Use the arrow keys to control the dog. Use the WASD keys to control the guard.