Play Now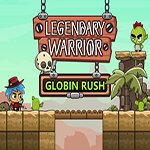 In Legendary Warrior, be prepared to visit a fantasy world filled with various dangerous creatures! These mobs are not civilized enough to solve issues through talking, so you better arm yourself! Equip your bow, pick the sharpest arrow from your quiver, and get ready to meet the monsters! Do you have what it takes to complete all the levels?
Sword and shield is an impressive weapon combo, but why get close to those pesky goblins when you can shoot them from afar? Your objective in this game is to complete each level by killing all the enemies in it. You don't need to be a master marksman to introduce the pointy part of your arrows to your foes, as you can play this game with your mouse. The game features 21 different levels that you can complete, and you can start your epic journey from the first one. Click and hold your mouse on the screen, and move your cursor around to adjust the power and the aim of your shot. You can earn a total of 3 stars on each level, and the amount you'll earn depends on how many arrows you use. If a level has 2 enemies in it, you'll lose a star for each arrow you use after 2 shots. Good luck and have fun!
Prove that you have the perfect aim in our other fun popular game, Apple Shooter Remastered. Enjoy!
Developer
QKY Game Studios developed Legendary Warrior.
Features
Colorful 2D graphics
Cute characters
Entertaining gameplay
Intuitive controls
21 levels to complete
Controls
Use your mouse to aim at the monsters. Press the left mouse button to shoot.