Baby Hazel Reindeer Surprise
Play Now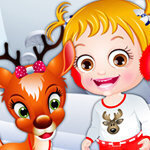 In Baby Hazel Reindeer Surprise, Santa has a cute surprise for our cute character Hazel! Dreaming about having a reindeer as a pet, Hazel will be surprised when she wakes up. Can you help her take care of her new pet fawn and have a good time with it?
Christmas may have passed, but Santa won't ignore the wishes of babies like Hazel. With a cute face and a red nose, a reindeer just like in her dreams waiting for Hazel when she wakes up! Your objective in this game is to pass each level by completing simple and fun tasks. You can play the game with your mouse. To start the game, click on the play button on the main menu. Follow the pointers in the levels. First, visit Hazel in her dream. Luckily, Santa is still on the job, and he granted Hazel her wish of having a fawn as a pet. Looks like the cute little deer is hungry so you best take care of and feed it. Try different items on the screen to keep it happy and then it's time to play with it. Who knew reindeers are so good at hide and seek? After a long day, it's time to sleep. Take the fawn to the bed and read it stories so it can sleep. Enjoy!
Join this cute baby on her other adventures! Have you tried the other game in the series, Baby Hazel Kitchen time? You can play it by clicking here. Have fun!
Developer
Baby Hazel developed Baby Hazel Reindeer Surprise.
Release Date
November 26, 2019
Features
Colorful 2D graphics
4 different levels to complete
Intuitive controls
Entertaining gameplay
Cute characters to play with
Controls
You can use your mouse to play this game.