Play Now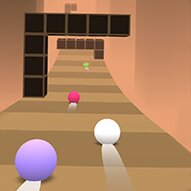 Race as a ball rolling at extreme speed with Ball Race! Discover the heights in foggy cities with changing colors, compete with other balls on an obstacle course, and unlock the most adorable and extraordinary ball designs in the game shop! Earn from your victories and buy new themes to carry the fight into!
Don't let the calm start fool you; everything will move faster with every second, and it will get extremely difficult to react to the incoming dangers by the end of the level! You don't get to speed up or slow down the ball; you can only steer it. You will often find yourself split between getting the next speed boost and collecting more gold. Both are functional in different ways, but speed boosts are necessary to win races as your opponents can also use them to pass ahead of you. Also, you can watch short videos to triple your race income or get extra twenty-five gold between races. This money can be used to unlock unique skins for your ball or new themes to race in. Discover new designs and show your competitors with style! Face and beat increasing numbers of enemies!
If you enjoy racing games of all themes, you can check out our Racing Games category by clicking here.
Developer
Ubisoft developed Balls Race.
Release Date
March 30, 2022
Features
Colorful 3D graphics
Changing theme options
22 unlockable ball skins
Challenging tracks
Available on mobile devices
Controls
You can use your mouse to play this game.