Play Now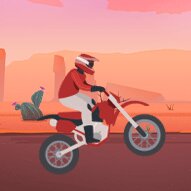 With Motocross Hero, get ready to rule the roads with your super cool motorcycle! It is no race for the amateurs. You must do whatever it takes to complete the race and come first among your opponents. Once you start the engines, there is no going back. Keep the balance of your vehicle, pass on the accelerators, and draw away as fast as you can. If you are ready now, let the race begins!
In the middle of a deserted area, full of dust and oils. Where are they coming from? Of course, the motors of you and the other racers'! It is time for you to take control of your powerful vehicle and challenge everyone crossing your way. In this fun racing game, your objective is to continue riding your motorcycle and outpace your opponents to get high scores. Keeping the balance of this monster is not easy at all. That is why you should hold on to your keyboard arrows very tightly. Once you see your machine is about to crash to the floor, change its move and keep up the others. You have 3 lives to use. If you use them up, the game is over, and you must start from the beginning. You can track your score from the left top of the game screen. Good luck and have fun playing!
Couldn't get enough enthusiasm that you needed? If so, be sure to check our collection of free and online racing games by clicking here to browse more thrilling adventures like this game.
Developer
MarketJS developed Motocross Hero.
Release Date
July 2, 2021
Features
2D colorful graphics
Endless moto racing to win
Obstacles to avoid
Entertaining and addictive gameplay
Controls
Use the arrow keys while playing on the computer. Touch controls for the mobile version.