Play Now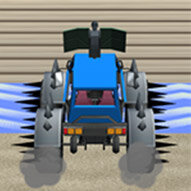 In Battle Cars, it is time to show up in the arena! The battle is waiting for you! If you cannot decide to play a battle game or a car game, this game is just for you! Only one car will survive in the end! Do you have the talent and the courage to be the one? Good luck!
Start your engine and show off in the arena! This time we are diving into the most exciting car game! The road to the arena is filled with upgrades, and you must collect them all in order to win this fight. To begin, simply drag the car with the mouse cursor to start to play. Many upgrades can be found on the road that is just waiting to be picked up. To have a chance against your enemies in the arena, you must gather as many as possible. Collect them quickly to improve your defense, arms, and pace. If you've entered the arena, move around, fire, and eliminate your opponents. To move around, click and hold the screen. Above your car, you can see your health bar. To win the fight, collect health kits, shields, and missiles. Whoever collects the most weapons manages to survive to the end in this game! Good luck!
Do you want to play more games like this one? If so, take the different challenges in our collection of free and online racing games.
Developer
YAD.Com developed Battle Cars.
Release Date
April 13, 2021
Features
Fun and addictive gameplay
3D colorful graphics
New skins to buy
Upgrades to collect
Controls
You can use your mouse to play this game.