Play Now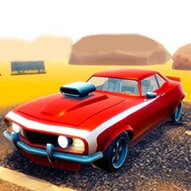 Explore new climates and build master-level driving skills in challenging environments with Desert Car Racing! Ten levels, three ambitious opponents, and three unlockable exotic vehicle options are waiting for you! Can you survive the extreme tracks built in the heart of wild nature and unlock the uniquely designed monster trucks?
You can start your journey on sand from level one after checking out the garage options. Here you can see the car prices and models. You can also see how much money you own and watch a shot ad to earn some extra quick cash. You can come back to this screen to unlock new content anytime you want. Now let's move on to the track! You can pass your opponents with quick moves and some help from nitro boost. Be careful not to get blocked, as it can slow you down for a while. Move towards the opposite side of the road, and pass without touching their car. You can use the same tactic to keep your competitors behind and be the first to reach the finish line. Speed up before spins and jumps to complete your stunts without accidents. Finish 10 challenging levels and unlock and try all cars to explore the vast deserts!
If you like challenging 3D race tracks, you can check out Monster Truck 3D Winter and change the seasons!
Developer
Vitalitygames.com developed Desert Car Racing.
Release Date
May 4, 2022
Features
Colorful 3D graphics
Easy controls
Unlockable content
10 unique tracks
Available on mobile devices
Controls
Use "W, A, S, D" or arrow keys to move and the spacebar for nitro.