Play Now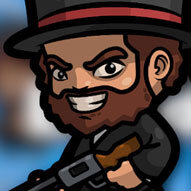 In BattleDudes.io, it is time to show your enemies who is the real fighter! In this 2D world with its multiple distinct maps and multiple game modes for you to choose from, the most exciting game experience is waiting for you! Are you ready for a real battle? Good luck!
Watch your back! You are on a fully destructible map, where you fight other teams and players for victory! It is a matter of life or death! You can select from a variety of maps and game modes in the game, as well as a variety of map and game mode combinations. To help you battle the enemies, you have over 20 different weapons at your disposal, which you can unlock by playing the game and collecting XP points. There are two teams. Stay close to your teammates and battle alongside them to fight off the inevitable danger. In the upper left corner of the screen, you can see the map. To get around the arena, use it. The bottom of the screen shows your health bar. Before the timer runs out, you must complete the objective and emerge victoriously. The timer, your team's score, and the score of the enemy team are all shown on the left side of your health bar.
If you liked BattleDudes.io, to check our collection of free and online IO games, click here!
Developer
Sarunas Visockas developed BattleDudes.io.
Release Date
March 30, 2021
Features
Over 20 different weapons
Over 50 different hats and other cosmetics
Battle Pass Global leaderboards
Driveable tanks, jeeps
Controls
You can use W A S D to move. R to reload. E to enter car. Left mouse click to shoot. Right mouse click to show emote. Mouse wheel or 1 2 3 4 to switch weapons.