Play Now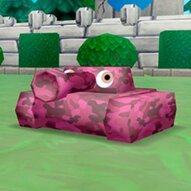 TankRoyale.io is welcoming you to the wild world of tanks and their never-ending battles! Get ready to walk into the arena! You will challenge other players from all around the world with your powerful tank! How long do you think you can last in this game? Good luck!
Welcome to the wild world of tanks! Walk into the arena if you are ready to give your enemies hell! Leave all your humane feelings behind, because there is no mercy here in this arena! If you don't want to be blown up by the others, be ready to explode them! Let's jump into the game and show them who is the best! In this game, you'll be seated in a cute little tank and given the task of hunting down and eliminating your enemies one by one. If you want to tactically assess the terrain and then devise a plan to keep your tank alive long enough to fight the battles ahead, you'll need to think quickly and drive much faster. Start firing as soon as the countdown starts, and don't stop until just you are left. To use your ultimate weapon, press the right mouse button when aiming with the left mouse button. To avoid their assaults, drive around the map and use the walls. Since the rockets ricochet off the walls, take cover and hope for their destruction. After each match, you'll gain experience and gain access to new ultimate powers. Good luck!
If you want to play more IO games be sure to check TankBattle.io, too.
Developer
SakiGames developed Tankroyale.io.
Release Date
April 14, 2021
Features
Multiplayer
3D colorful graphics
New skins and hats to unlock
New ultimates to unlock
Controls
You can use the WASD keys or arrow keys to move around the map. Press the left mouse button to fire. Press the right mouse button to use your ultimate.