Play Now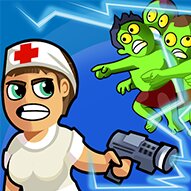 In Zombie Royale.io, grab your gun now and start saving your city! Because the city is under zombie invasion! But you cannot handle it alone, you need a team! If you are ready to kill as many zombies as possible, let's jump into the game and help the survivors! Good luck!
Do you enjoy playing zombie games and watching zombie movies? Then you should play Zombie Royale.io. Defeat Zombie Bosses in order to survive the Zombie Apocalypse. To upgrade and purchase items, earn as much money as possible. Show both your speed and your eye-hand coordination. If you are ready to battle in a zombie zone, let's jump into the game and give them a rough time! There are two modes to play, but first, you should unlock the first 4 levels. In PVP mode, your objective is to kill other players until you become the last survivor and in the care mode, your objective is to find all gas and gas up the car so that you can leave the epicenter of the Zombie Apocalypse. In both modes, you need to help survivors, kill as many zombies and bosses as you can, and collect money. When you see zombies, your character will immediately start shooting. Because the zombies attack in waves, you may need help along the road, you'll come across survivors who will join you. You may also request help by pressing the buttons in the bottom left and right corners of the screen. Good luck!
If you liked Zombie Royale.io, to check our collection of free and online zombie games, click here!
Developer
New Gamer developed Zombie Royale.io.
Release Date
June 25, 2021
Features
9 different heroes
Online multiplayer gameplay
Achievements to unlock
Intuitive controls
Controls
You can use your WASD keys to play this game.