Play Now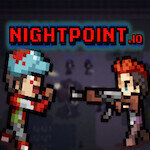 In Nightpoint.io, grab your weapons and keep your guard up. Evil things are starting to appear in the city after the dark. Join other players in this online multiplayer game, and try your best to survive! Will you team up with others and try to keep the undead threat at bay, or will you play as a lone wolf and kill whoever crosses paths with you?
Featuring 2 modes, the action and challenge never end in this game. To start the game, pick a game mode from the top, select a character, and pick a server to join. FFA stands for free-for-all, and your objective in this game mode is to survive as long as you can. Other players are also trying to survive, and it's up to you to cooperate against the zombie menace or try surviving on your own. It's good to have someone watching your back, but can you trust them with your life? In the second mode, you try to grab the enemy flag and bring it to your team's spawn point to score points! As you kill zombies and others, you can discover power-ups. Use them to gain advantage and dominate the map!
Fight against other players or team up with them to complete a challenging objective in the games listed under our category of free and online .io games. Enjoy!
Developer
Sarunas Visockas developed Nightpoint.io.
Release Date
September 2017
Features
6 different character skins
Online multiplayer gameplay
2 different game modes
Different weapons and power-ups to collect
Controls
You can use the WASD keys to move around the map and the mouse to aim. Click on the screen to fire, press space bar to dash, and use the numerals 1, 2, 3, and 4 to use the upgrades.