Play Now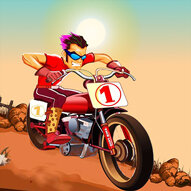 In Moto Hill Bike Racing, a very exciting biking experience is waiting for you! You will control a cool motorcycle through the obstacles, loops, and platforms in this game! Be ready for the adventure and go further as far as you can! Are you ready? Have fun!
Have you ever dreamed of biking on an empty road alone? If your answer is yes, this is just for you, my friend! The game seems easy, but you have to try hard to keep the balance. To start the game, click on the play button on the main menu, then select a level to play. In the beginning, only the first level is available, you will unlock the rest as you proceed with the game. The arrow keys are used to control your motorcycle. You'll see your current location in the level at the top of the game screen. You can also use the up and down arrow keys to balance yourself. Be careful about your balance! You can be exploded if you fall on your back or your head! You will start over if it happens. Reach the finish line at each level to unlock the next one. Keep an eye out for the long jumps and loops! Are you ready for those jaw-dropping trampoline jumps? If you don't want to crash your bike, don't forget about the brakes! Good luck and have a good time!
Do you want to play more games like this one? If so, take the different challenges in our collection of free and online bike games.
Developer
Webgameapp developed Moto Hill Bike Racing.
Release Date
March 12, 2019
Features
24 levels to complete
Addictive gameplay
Entertaining gameplay
Intuitive controls
Controls
You can use your arrow keys to play this game.