Play Now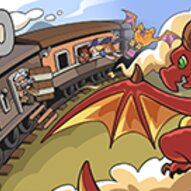 Travel between towns, take your dancers to festivals and shows, and keep them safe with Black Stallion Cabaret! Become a legend of entertainment in the country and bring joy everywhere the machine takes you! Upgrade your weapons, dancers, and mechanics skills, and make your train even stronger against enemy attacks!
Welcome to a world where you operate a train that carries beautiful dancers across the land! It is mostly fun, but there are also a lot of downsides like unsafe roads and monster attacks between towns. But as it is your profession, you know how to deal with both fame and attacks. These little travels can take days, so you must fight more than once to jump from town to town. The workshop built in your train generates random items that you can use to level up your dancers, weapons, and workshop. You can see the level of an item on its top left. Merge identical items with the same level to make them more effective. You can also get boosters and coins at the workshop. Put on shows, make more money to upgrade your train, and become better at the automated battles between the uncanny creatures of the night and your team!
If you like this fun and exciting train journey, you can check out our Adventure Games and find more games like this!
Developer
PERSONA•GAMES developed Black Stallion Cabaret!
Release Date
June 22, 2022
Features
Interesting storyline
Fun characters
Satisfying upgrade system
Immersive battles
Addictive gameplay
Available on mobile devices
Controls
You can use your mouse to play this game.