Play Now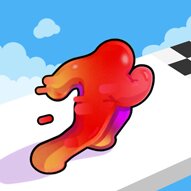 In Blob Runner 3D, you urgently need to help this colorful blob! He is trying to get out of this maze without getting killed by any obstacle! But with your help, he can reach the end! Can you help him reach the finishing point and get the highest score? Good luck!
This blob has a very strange structure! He can change color and size! So he is open to all dangers, can you help him reach the finish line safely? If your answer is yes, let's jump into the game! In this game, you're in control of a massive blob that can shrink down to a fraction of its original size. Because this is one of the year's most popular parkour games, you can play it for free and online on our platform! Your goal is to get to the finish line as quickly as possible while avoiding obstacles and collecting slimes. But it's not going to be simple! If you hit any of these obstacles, your blob will shrink to the point that it will vanish! By dragging or swiping your finger, you can control your character. If you fail, you can rest for a while to recover your strength. Collect all of the gems along the way to unlock different skins for your character and to make the game more enjoyable. If you're ready to get your adrenaline pumping, press the play button to start the game. Have fun!
If you liked Blob Runner 3D, to check our collection of free and online 3D games, click here!
Developer
YAD.Com developed Blob Runner 3D.
Release Date
July 5, 2021
Features
3D colorful graphics
Different skins to unlock
Several challenging levels
Simple controls
Controls
You can use your mouse or finger to play this game.