Play Now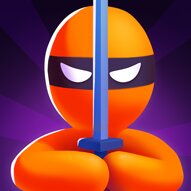 In Stealth Hunter, it is time for heisting but, don't worry! It is not real-life buddy! You're a stealth hunter, a ghost who goes unnoticed by the public and your target. You've entered a world where enemies operate beneath the radar, slip past hostile guards, and eliminate everyone! Good luck and don't forget to have some fun!
We hope you've never been involved in a real robbery before! And you only use what you know in games! If you are ready enough, gather your strength and let's start the game right away! It'll be the most horrific heist you've ever seen. The plan is for you to travel around the floor and gather the money. There will be strong wind and security cameras set up all over the place. Don't be alarmed! Everything will be OK if you wander about the safe zones, away from the light. On the journey, try to gather the keys. You can unlock the treasure boxes and earn additional coins with just three keys! Be stealthy and stalk the people from behind. It will undoubtedly make your job simpler! Control your character by dragging your mouse or swiping your finger. Open the gates and go to the next level. If you're ready, let this begin! Have fun!
If you want to play another game similar to Stealth Hunter, then be sure to check Money Movers 3, too.
Developer
BPTop developed Stealth Hunter.
Release Date
August 17, 2021
Features
3D colorful graphics
Several challenging levels to complete
In-game shop to unlock new skins
Daily gifts to claim
Controls
You can use your mouse or touch controls to play this game.