Play Now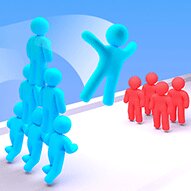 In Crowd Stack Race 3D, get ready for a colorful challenge! Gather your buddies because you will need any power you can find. This hyper casual skill game will lock you in front of the screen for hours of fun. Run towards the finish line and grab the rewards. Collect your buddies on the way so that you can complete the levels. You can upgrade your character levels and achieve more in this amazing game! Ready? Then, let's go!
With 3D colorful graphics and non-stop excitement, this game will blow your mind! Ready to run for miles with your stick gang? Then, you are at the correct place. In this amazing adventure, your objective is to reach the finish line with as many characters as possible. When you start, you'll have only one character. Collect the other ones on the way but be careful about their colors! You should only collect those who are the same color as your character is. Run on the stack and avoid the edges. If you hit any other guy in a different color, you lose your guys. Dodge the obstacles. They will cause you to lose your crowd as well. As you complete the levels, you earn coins. Use your earnings to upgrade the number of your gang. Good luck now and have fun playing!
If you want to try another game similar to this one, then be sure to check Shift Run by clicking here.
Developer
bestgames.com developed Crowd Stack Race 3D.
Release Date
August 20, 2021
Features
3D colorful graphics
Several challenging levels to complete
Upgrading character levels
Fun and addictive gameplay
Controls
You can use your mouse or the touch controls to play this game.