Play Now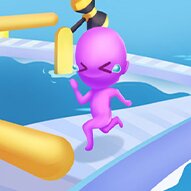 Cool off with the refreshing platforms of Fun Race 3D! Join parkour races on these unique platforms, defeat giant-headed babies just like yourself, and make your way to the top while discovering new levels! Explore the incredible skin options in the game shop and unlock new looks for your character!
Ready yourself for a cool challenge under the scorching summer sun! Control your character with just one command and advance through levels to keep exploring new tracks! Do not settle for second place; keep trying until you make it to the top of the scoreboard! Let's start running! All you must do is to tell your character when to run and when to stop, and he will deal with the rest. Wait for the blocks to get out of the way, and start running! Do not rush toward the finish line; touching an obstacle can push you out of the platform and cost you a few seconds. Keep your feet on the platform and let the others pass you if you must; you can always catch them with the right timing. Collect rewards by logging in daily, and save gold to unlock new looks for your character.
If you like this addictive race with fun tracks, you can check out Stumble Boys Match and explore new 3D platforms!
Developer
YAD.Com developed Fun Race 3D.
Release Date
June 17, 2022
Features
Nice 3D graphics
Hilarious characters and skins
Unlockable shop items
Addictive levels
Controls
You can use your mouse to play this game.