Play Now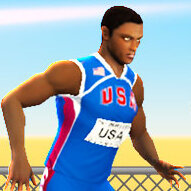 Sprinter Heroes are here to cheer the tribunes up today! Welcome to the most exciting running competition of all time! Here, you will be running towards victory, after all. Your dreams are about to come true; your name will be remembered as the competitor who achieved the best score in the world. Start to warm up a little because the race is about to begin!
Stretch your legs before the time comes! Oops! We meant the fingers. Cause this running competition is no like you have seen before. You will run with your fingers and your character will handle the legs part! Are you ready to climb the top of the leaderboard? In this fun running game, your objective is to travel around the world to join in competitions and reach the finish line before all your opponents. Start with selecting your competitor and the country that you present. There are 7 competitions in 7 different places as North America, Europe, Asia, Australia, Antarctica, Africa, and South America in order. If you don't come first in any of them, you should restart the race. Use the right and left arrows to make your character run. You should be real quick to go fast and outpace your opponents. Watch out! If you click one of the arrows twice, your character trips and falls on the ground. Good luck!
If you enjoyed this 3D competition and up for more, then should definitely check Tricky Track 3D.
Developer
RHM Interactive developed this game.
Release Date
September 23, 2020
Features
3D colorful graphics
7 competitions to win
7 places to go
Various characters to choose
Controls
Use the left and right arrows to make your character run.