Play Now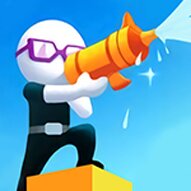 In Shoot and Run, get ready to jump into an engaging shooting game! Because here you have a chance to become a real shooter! Aim for the objectives and let your superweapon speak for you! You're in trouble if you move through the big numbers. Keep up with the game's pace and try to shoot as few boxes as possible! Don't be afraid to blow up the colorful ones to gain extra abilities. Let's see how long you can survive this running craze if you're ready now! Good luck!
You'll be running and shooting a lot today! You're not going to shoot at a human or a living creature. They're just boxes, right? They can, however, have a significant impact on our progress. The goal of this entertaining skill game is to run as far as possible. You'll have to practice your shooting skills along the way! Because you'll be faced with several challenges to overcome. Choose the box with the lowest number and shoot it. The numbers represent the number of shots required to destroy it. It'll be easier to keep moving if you spend less time destroying obstacles. If you shoot the brightly colored ones, you'll gain a variety of bonuses, including more powerful weaponry and bullets! Don't forget to use your earnings to buy new skins from the in-game shop. Best of luck, and have a great time playing!
If you want to play another game similar to Shoot and Run, then be sure to check Crazy Shooter, too.
Developer
YAD.Com developed Shoot and Run.
Release Date
August 30, 2021
Features
3D colorful graphics
Unlocking new skins from the in-game shop
Epic battles
Interesting and addictive gameplay
Controls
You can use your mouse or the touch controls to play this game.