Play Now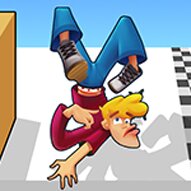 In Fail Run Online, you have to make every effort possible to reach the finish line! How difficult can it be to take a few steps? When you're on your own, it's a lot more difficult! This man has a hard time staying still. He must, however, keep moving until he achieves his objective. That is precisely why you have come. Help him in taking a few steps without falling. Let's see if you can finish this difficult mission right now! Good luck!
We don't know what happened to this man, but one thing we do know is that this man has to reach the finish line in every level! But unfortunately, he can't control himself, and this is where you step in! All you'll need is a mouse or a finger to get started. A little patience is also helpful. To make him take one step forward, click or tap on the screen. If you keep your finger on the button, he'll take a bigger step. At first, it appears that he will be unable to run. However, as you gain experience with the game, it will get simpler to control! You'll earn coins as you go through the levels, which you can use to purchase new skins from the in-game shop. Remember to claim your daily spins and sign in to get a variety of prizes! You can achieve everything in life if you can get him to walk without fail! Best of luck, if you need!
Do you want to play more games like this one? If so, take the different challenges in our collection of free and online 3D games.
Developer
YAD.Com developed Fail Run Online.
Release Date
August 16, 2021
Features
3D colorful graphics
Several challenging levels to complete
Daily spins and rewards to claim
Fun and addictive gameplay
Controls
You can use your mouse or touch controls to play this game.