Play Now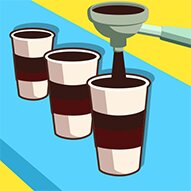 Crowds need coffee, and you can save everyone's day with Coffe Stack! While it is a luxury to some people, some consider it the savior of busy mornings. Your honorable mission this morning is to save millions with the holy power of caffeine! Do you have what it takes to help them start the day?
Welcome to an alternate reality where everything is based on coffee. On this track you are walking (or sliding) on, the obstacles, or even the waterfalls are about caffeine. The challenge ahead of you will test your abilities to collect cups, fill them with the hot beverage of dreams, and serve the empty hands at the end of the road, so get your hands ready! You can swipe your hand left and right to pick up items and avoid spikes that can be deadly for you and the cups. Collect the paper cups, fill them by passing under coffee fountains, and keep them safe from traps. Grab some cup sleeves on your way to keep your hands nice and cool, and choose to feed the freeloaders asking for something to drink. Reach the finish line with as many cups as possible to complete your divine quest, and please the jury.
If you like obstacle courses and absurd missions, you can check out Mora Rush and play a modern version of Rock, Paper, and Scissors!
Developer
bestgames.com developed Coffe Stack.
Release Date
May 10, 2022
Features
Nice 3D graphics
Funny theme
Addictive gameplay
Available on mobile devices
Controls
You can use your mouse to play this game.