Play Now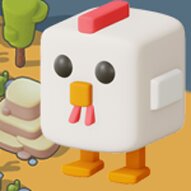 With Crossy Chicken, it is time to save this chicken from being crushed by vehicles! We have no idea how it got there, but there are various obstacles waiting to harm the chicken. What you are going to do is quite simple and challenging at the same time. Control this little animal with your mouse or touch controls to cross the paths. Sounds easy? Let's see the difficult part then!
Get ready to jump into a dangerous craziness! This chick is as brave as a lion. It is trying to cross from the highways. Help the chicken to reach the other side safely. In this fun arcade game, your objective is to take control of this animal and make it go forward by dodging the obstacles. Avoid the trains, planes and turn the woodblocks to your advantage so that the character can cross the river. You will find coins on the way. Try to collect those coins and unlock new characters from the in-game shop. You can use the arrow keys to move sideways or forward. Also, you can control your character with your mouse or touch controls. If you want higher points by surviving, don't stand in the way of any incoming objects. Good luck and have fun playing!
We have another kind of bird friend who needs your help in another adventure. If you want to help this little friend, all you need to do is to check Birdy Trick by clicking here.
Developer
ivigames.com developed Crossy Chicken.
Release Date
June 8, 2021
Features
3D colorful graphics
Endless adventure to enjoy
Various obstacles to avoid
In-game shop to unluck new skins
Fun and addictive gameplay
Controls
You can use your mouse or touch controls to play this game.