Play Now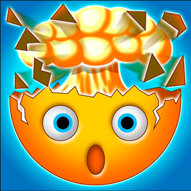 Brain Explosion is here to challenge your problem-solving skills with its various weird and tricky questions! Do you believe you can think outside the box to find a solution to even the hardest questions? Then be our guest and test yourself in this crazy and addictive game!
It's time to use your brains and tackle these questions! Your objective in this game is to answer correctly and solve as many questions as you can! You don't need a calculator or a dictionary to find an answer! The only thing you require is your mouse to play this game. Before beginning, enter a name for yourself so you can track your score on the scoreboard. Next, click on the start button on the main menu. Some questions will present different choices for you to pick the correct one, while others require a little bit of more creative thinking. Sometimes the answer is obvious, but at other times, you just have to make a guess. You start the game with three lives and lose one with each wrong answer. The game ends when you run out of lives, but don't worry! You can buy extra lives from the in-game shop, as well as pass tickets and coin multipliers. How many questions do you think you can answer correctly?
Challenge your limits and prove you're a genius by playing our other popular game, Mystery IQ Test. Enjoy!
Developer
DRA developed Brain Explosion.
Release Date
November 4, 2020
Features
Colorful 2D graphics
Various different and fun questions to answer
Intuitive controls
Entertaining and addictive gameplay
Controls
You can use your mouse to play this game.