Play Now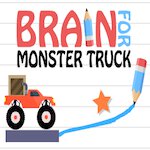 In Brain for Monster Truck, it's time to deliver a fragile cargo but the roads are incomplete. Test both of your driving and drawing skills in this entertaining and addictive game as you try to complete each level without any accidents.
Carrying a package would be much easier if the crate was safely bound to your vehicle and the roads were completed, but where's the fun if there are no challenges? Your objective in this game is to complete every level by taking your truck to the red flag on each level without dropping your cargo. The game features 24 different levels, and each becomes progressively harder. Start with the first level and you can unlock the rest one by one. On each level, you can collect up to three stars. This objective is optional, but the more stars you collect the more points you'll earn. You should be careful while controlling your truck. Use your mouse to draw lines between platforms for your vehicle. You can delete a line with the eraser tool if you need it. Be careful, because if you drop your cargo or if it touches anything, you'll lose the level and have to start again. Enjoy!
Whether you like to deliver cargo or race against others, more fun is waiting for you in our collection of free and online car games. Have fun!
Developer
QKY Game Studio developed Brain for Monster Truck.
Release Date
November 28, 2017
Features
24 different levels to complete
Intuitive controls
Entertaining gameplay
Colorful 2D graphics
Controls
Use the arrow keys to control the truck. Press the right and the left arrow keys to move forward and backward. You can use the mouse to drive roads.