Play Now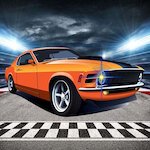 In GTA Cars Puzzle, it's time for playing with jigsaw puzzles! Featuring many different car images, you'll love to put puzzle pieces together, whether you're a car enthusiast or not!
Driving around is not the only way to play with cars! In this game, you can play with many different images of different cars, from old classics to fast sportscars. Your objective is not very different from a tabletop puzzle game. You try to unlock all the images by completing the puzzles one by one. Start the game by clicking on the play button. Next, pick the first image and choose a difficulty level from 3 options. As you increase the difficulty, the number of puzzle pieces will increase too. When you start, you'll see the final image for a brief time. Click and drag pieces around. When you place two fitting pieces next to each other, they'll stick to each other and can be moved around as a single piece. The best way to complete a puzzle is to place the frame pieces first, then working on the middle part of the image. You can click on the button in the bottom right corner to complete the puzzle automatically, but this will not unlock the next image. Have fun!
Looking for relaxing games? We have great and popular titles in our collection of online puzzle games. Check it out and enjoy!
Developer
Vi Games developed GTA Cars Puzzle.
Release Date
January 22, 2019
Features
Colorful graphics
12 different puzzles to pick and play
Intuitive controls
3 different difficulty settings
Relaxing gameplay
Controls
You cna play this game with your mouse.