Play Now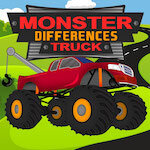 In Monster Truck Difference it's time to spot the difference! These awesome-looking trucks want a copy of their pictures. But there must have been a mistake with the photocopiers because there's something off about the copies! Can you spot each difference and fix this mistake?
Oh, its a beautiful day, isn't it? Perfect time to take a picture. Find the perfect angle, get ready to pose! Done and done! Those trucks really do look awesome, don't they? You should definitely get a copy of them. But wait. What's that? There's a difference between the original picture and the copy. Can you fix this issue? Your objective is to spot the difference between two pictures before the time ends! You can see the timer in the top left corner of the screen! There are 10 levels in this game and you have to spot the 7 differences in each level. There can be a difference everywhere on the picture. You can click on either of the pictures when you spot the difference! If you cant find them on time, you'll lose the game. So, feel free to poke the surroundings to discover each difference. In each level the game gets more and more difficult so be quick! With your keen eyes you're sure to win this game!
At Yepi, you can find lots of puzzle games to challenge yourself! Try Mahjong Firefly and start matching the identical tiles!
Developer
Developed by Vi Games.
Release Date
February 8, 2019.
Features
10 levels to complete
Intuitive controls
Colorful graphics
Fun puzzles to solve
Controls
You can use your mouse to play this game.