Play Now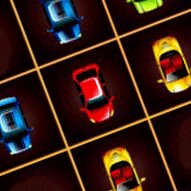 In Cars and Road, it's time to stop the traffic jam. Living in a big city has its troubles and all the people stuck in the traffic jam are now suffering from it. Do you think you can help them in this puzzle game?
It's has been hours and traffic hasn't even moved an inch. The map shows all the roads red and there seems to be no escape route. In this game, your objective is to take control and solve this issue by matching three of the same cars and making them disappear from the board. To play this game, all you need is your mouse. Just click on one of the cars and match 3 of the same adjacent cars. When you create a line between them, they'll disappear. You can match them diagonally, horizontally, and vertically. You need to turn all the red blocks blue in order to complete each level. The red tiles turn blue once you match the cars. Just keep an eye on the timer at the right corner of the screen. You have 5 minutes to complete the level. If you can't, you can always try again. Do you think you will be able to finish all the levels and relieve the traffic congestion? Good luck!
If your are looking for more games like this one, you should check out Genie Quest by clicking here. Have fun playing!
Developer
Lof Games developed Cars and Road.
Release Date
June 23, 2021
Features
Fun and addictive gameplay
Intuitive controls
Many levels to complete
Nice 2D graphics
Controls
You can use your mouse to play this game.