Play Now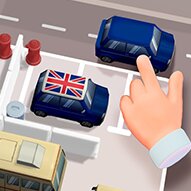 Parking Escape takes the struggle in parking places to another level! The lack of space, the frustration, the feeling of freedom once you get out of there; it's all unbelievably realistic. The soft pastel colors will make you almost forget that you are stuck between six cars and have no way out. The good news is, you are in control of all cars, and you decide who leaves first!
Imagine sitting in the middle of a parking lot under the burning sun, and waiting for five other cars to move so you can finally get out. Now imagine you are in six of them. Sounds bad, but with coordination, it can work out much faster! And the best part is, no one gets mad at you for hitting their car! You can, if you want to, for they are all your cars, but there's no need for any tension on a bright day like this. Collect the gold you earn by saving these cars, and unlock more colorful cars to save from this growing chaos! Challenge your parking skills in this parking lot without losing any dignity!
If you would like to test your patience further, you should check out Parking Fury 3.
Developer
OneTwoPlay BV developed Parking Escape.
Release Date
November 11, 2021
Features
Cute and soft-colored theme
Improving logic and planning skills
Levels of challenging puzzles
Easy to play
Available on mobile devices
Controls
You can use your mouse or tap on your screen to hold and move the cars.