Play Now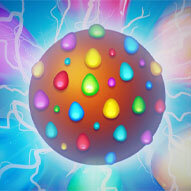 In Candy Crusher, let's crush the candy to become the candy king! To remove candies from the board, match three or more of the same candies together! If you find out more about the game, let's jump into it! Have fun!
Candy Crusher is a match 3 game in which the main objective is to swap pair candies among many on the gameboard to create a row or column of at least three matching-colored candies. On this match, the matched candies are removed from the board, and candies above them fall into the empty spaces, with new candies appearing from the top of the board. You can use either your mouse or finger to match 3 or more of the same candy. You can also match 4 or 5 candies together to unlock bonus candies! Try to score as many points as possible within the limited number of moves given. There will be endless levels waiting for you! As you complete the aims, additional board space will be unlocked! The matches will earn you points, and chain reactions will earn you more points. Additionally, having four or more candy matches can result in the creation of a special candy that, when matched, can clear a row, column, or other section of the board. Are you ready to jump into this colorful candy world? Have fun!
If you want to try another game similar to Candy Crusher, then be sure to check Heroes of Match 3 by clicking here.
Developer
RavalMatic developed Candy Crusher.
Release Date
March 25, 2021
Features
2D colorful graphics
Endless levels
Entertaining gameplay
Easy controls
Controls
You can use your mouse or finger to play this game.