Play Now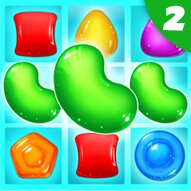 Match shiny and delicious-looking sweets, meet the cutest friends on your adventure, and face more than two thousand challenges with Candy Match 2! Choose between adorable and funny avatars, complete tasks with the highest score points, and carry your name and avatar to the top of the global scoreboard!
Once you set off on your journey in the land of sweets, you must dedicate your heart to it, and today you will learn the right way to do it! Start by accepting irresistible surprise rewards; you will be getting them here every day. From the very first level of your adventure, each level will come with a quest and a limited number of available moves. You can see the required type and amount of candy on the top, right next to the number of remaining moves. Swipe candies to swap their places and match three, four, or even five candies! Matching more than three candies will give you a booster candy with special abilities. Matching these special candies merges the effects of the two candies, landing a unique attack on the sweets before you! Complete levels with as few moves as possible and get three stars!
If you like this sweet matching puzzle, you can check out Cookie Crush 3 and dive into another delicious adventure!
Developer
SOFTGAMES – Mobile Entertainment Services GmbH developed Candy Match 2.
Release Date
June 20, 2022
Features
Bright and colorful theme
Sweet characters
Fantastic effects
Addictive gameplay and easy controls
Available on mobile devices
Controls
You can use your mouse to play this game.