Play Now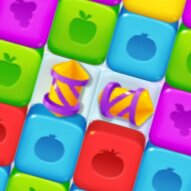 Mark the colors to blast the candies with Candy Tile Blast! Break the groups of same-colored blocks with this fun puzzle, and have fun while giving your brain muscles a workout! Take a break from your daily work and focus on the sweet colors of these popping candies!
You will love these vibrant colors and the delicious theme! This puzzle offers you a sweet getaway from the daily stress of your job, school, housework, and any other burden you are dealing with! Just channel your anxiety on these quests and pop the sweets with the most satisfying effects! You must follow some rules to achieve these goals, though. You can only break groups with two or more same-colored blocks placed near each other. Follow the quest displayed above and collect all the candies needed. You can get boosters by breaking five or more candies at once. These boosters clean out rows horizontally or vertically, saving you from spending more moves. Complete your mission within the limited moves to win levels. Adapt to the changing difficulty and keep getting surprise rewards! Build new strategies to overcome the challenges of these colorful block puzzles, and discover new move combinations to beat the game!
If you like this sweet challenge, you can check out our other Puzzle Games and find more games like this!
Developer
BestGamesFreePlay.com developed Candy Tile Blast.
Release Date
September 6, 2022
Features
Sweet and vibrant theme
Unlockable boosters
Sixty challenging levels
Increasing difficulty
Available on mobile devices
Easy to play
Controls
Click or tap on the block group you want to break.