Play Now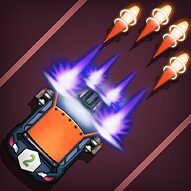 Car Defender is inviting you to a galactic war that will make you go nuts! In the beginning, no one imagined that this war could go this far. But here we are, trying to explain to you what happened. The aliens have decided to attack the world and luckily, we have enough technology to send our warrior cars to space now. You can be the only hope left for humanity. If you are ready to show your battle skills, then let the game begin!
The attacks of the enemy waves are getting stronger day by day. The aliens are planning to land on the earth and erase humankind once and for all. Luckily, we have the most technological war cars on the planet, and we also have you to plan the defenses. In this fun and thrilling strategy game, your objective is to destroy enemy spaceships by merging the cars. As you merge the same level of cars you get a new car with one higher level. As the level of the cars increase, their shooting power gets stronger as well. You should upgrade the stats of your cars with your earnings gained through the kills. Don't forget to track the missions you have completed and claim your rewards. Let's see how many waves you can dodge all the way through the victory now!
If you enjoyed this adventure and looking for another game similar to this one, then be sure to check Lucky Golden Piggies by clicking here.
Developer
bestgames.com developed Car Defender.
Release Date
May 19, 2021
Features
3D colorful graphics
Upgrading car stats
Endless shooting adventure
Fun and engaging gameplay
Controls
You can use your mouse or finger to play this game.