Play Now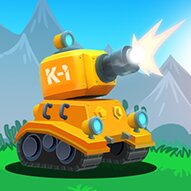 In Tank Hero Online, it is time to fire your weapon and blow out your enemies! This game will take you to many different unique places where you must eliminate enemy tanks, with two different difficulty levels and enjoyable gameplay. Are you ready for some chaos? Good luck!
The battle has started. Take the guns to your opponent and destroy as many tanks as possible before they kill you. Battle cunning enemies, acquire power-ups and finish over 100 levels of thrilling action. To become the leader, collect coins and improve your war machine with additional guns, bullets, and armor! All you need is your mouse to play this game. Each level requires you to blow up the enemy tanks before they do the same to you. Aim by clicking on the screen, then release to shoot. If you don't take your time to aim properly, you'll miss every shot. Continue until there is nothing left of them. Because they're also shooting at you, every shot matter. At the end of each level, you earn money. Purchase new tanks and guns with this money. You may need the improvements as the game progresses, and you face more difficulties. It's possible that you'll have to fire over long distances or over obstacles. Keep in mind that the boosters that are falling from the sky can also be shot. They could be carrying extra money, medical supplies, or even shields. Good luck!
If you want to play more action games be sure to check Awesome Tanks 2, too.
Developer
kiz10.com developed Tank Hero Online.
Release Date
June 18, 2021
Features
2 difficulty modes
New tanks and cannons to unlock
Many levels to complete
Fun and addictive gameplay
Controls
You can use your mouse to play this game.