Play Now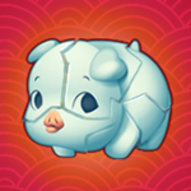 Lucky Golden Piggies invite you to not double, not triple but to increase your savings more than 10 times! If you have ever tasted the enjoyment of having savings in the piggy bank, you are so gonna love this game! All you have to do is to merge the piggies and get the coins. If you are ready, let this craziness begin!
Oh the moneygrubber detected already! Once you stepped into this fun clicker game, you proved that some extra coins blinded your eyes too... Joking, of course! Here, you are gonna merge the same piggies and get the coins. There is no rule or limitation. We are only here to have fun! You can see the empty places in the middle of the screen. Click on the piggy piggy situated at the bottom of the game screen until you break it. Once you break our piggy bank, it appears on one of the empty places. Each bank earns you coins per sec which you can see at the left top corner of the screen. As you merge them, new banks will be available, and each new pig earns you much bigger amounts. As you proceed in this fun game, some surprise bags will be waiting for you! You can also get extra places to put more piggies. If you get bored merging the pigs, you can buy the one you want from the shop. Don't forget to check the achievements and claim the prizes. Have fun!
Be sure to check our collection of free and online skill games to browse more fun titles like this game.
Developer
Agame developed this game.
Release Date
February 8, 2021
Features
2D colorful graphics
Fun and engaging piggy banks
Fun clicker game
Simple controls
Controls
You can use your mouse to play this game.