Play Now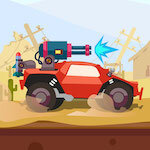 In Road of Rampage, a dangerous road is waiting for you. Get ready to dive into a post-apocalyptic world filled with angry opponents. Jump into your armored car, and don't let these persistent opponents stop you from reaching your destination. Can you overcome all their attempts in defeating you?
It's not safe to go outside in this world, so you better be armed to teeth. Your objective in this game is to travel as far as you can defeating your enemies. You can play the game with your mouse. Click on the play button on the main menu to start the game. Your vehicle moves on its own, but you have to control the machine gun attached to the top of it. Click and hold onto the screen to fire, and move your cursor around to aim. At the bottom of the screen, you can see the distance you've covered. Your enemies are ruthless, and you may feel overwhelmed from time to time. In the bottom left corner of the screen, you can see the airstrike button. Press on it to make rockets rain from the sky and watch as your opponents explode. You earn coins with each enemy you defeat. You can spend these at the in-game shop to upgrade different stats. How far do you think you can travel?
For more games like this, go ahead and check our collection of online car games. Have fun playing!
Developer
Kiz10 developed Road of Rampage.
Release Date
May 31, 2019
Features
Colorful 2D graphics
3 different upgradable stats
Intuitive controls
Entertaining gameplay
Controls
You can play this game with your mouse.