Play Now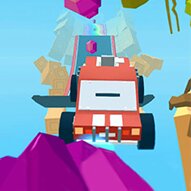 Drive your monster truck through changing rainbow and forest themes in Monster Truck High Speed! Use speed boosts, earn points from drifting, and pull different types of stunts in the shortest time to finish all levels with three stars. Unlock new trucks and try new mechanics on changing tracks!
There are ten levels of deadly challenges waiting for you and your vehicle. Trust your truck, focus on your destination, and don't forget to pull stunts every second you spend mid-air! You will see randomly placed purple diamonds on your way; they also earn you stars at the end of every level. It is almost impossible to spin off the track, but you can fall off cliffs, so don't hesitate to use nitro to accelerate when moving towards them. Do spins and rolls, drift when safe, and don't be afraid to fail. You can restart from the last checkpoint when that happens. New vehicles will unlock at the 4th and 7th levels. Complete all ten levels with three stars to beat the game. Give yourself time to get used to the controls and enjoy the stunning 3D scenery.
If you like driving monster trucks on extreme courses, you can check out Monster Truck 3D Winter and complete another ten levels of this amazing game series.
Developer
Vitalitygames.com developed Monster Truck High Speed.
Release Date
March 23, 2022
Features
Vibrant 3D graphics
Unlockable trucks
Challenging tracks at every level
10 addictive levels
Available on mobile devices
Controls
You can use "W, A, S, D" to move, shift for nitro, spacebar for brakes, and "Z, X, C" for stunts.