Play Now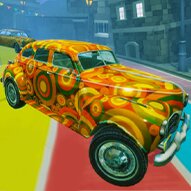 The challenging tracks and maps are not even the best part of Colorful Racing. You will not believe the colors that change with the speed, the car skins you can unlock, or the vivid city lights. Feel the joyful atmosphere of the lively locations and the creepy foggy roads that turn everything grey as you move through.
Hit the play button, and you can see the creator's instructions for the game before being directed to the car shop. Here, you can click up or down to give a new look to your car. The shop offers crazy designs and other retro car models, but you start the game with no money, although later in the game, you can earn enough from races to buy new cars. After finding the right colors to fit your competitive mood, you can move on to the action. The controls contain the four main directions with nitro boost. You will start the race with two opponents, and they will give you a hard time. Starting with nitro boost and leaving them behind as soon as possible would be a good tactic. Don't forget to sit back and watch the colors dance as your speed increases and the fog falls!
If you like colorful and extraordinary themes with cars, you can check out Rider and enjoy this neon show!
Developer
Vitalitygames.com developed Colorful Racing.
Release Date
April 6, 2022
Features
Incredible artwork
Colorful 3D graphics
Easy controls
Unlockable content
Available on mobile devices
Controls
Use the arrow keys to move and the spacebar for nitro boost.