Play Now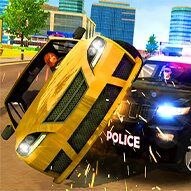 Control a garage of ten luxurious cars with different stats and do police work with Grand Vegas Simulation! Get missions, hunt down criminals, and keep your city safe from dangers! Discover an open map, drive off-road if you like, and earn from successfully completed quests! You have a whole world to discover ahead of you!
Before getting to the game, you can check out the options menu, turn off the sounds, and turn on the left-handed mode. Continuing toward the game will take you to the garage; this is where the magic happens. You can choose between ten super luxurious cars, customize them in any way you want, change their colors, unlock new tires, and add smoke colors to maximize the effect. You can also check the vehicle prices to set up a new goal for yourself and work toward it. Now we can roam the streets! Hit "Play" and drive around all you want! You can see the incoming missions on the top right and choose to accept or decline. Follow criminals and hit their cars repeatedly to arrest them and complete your missions. You can also get driving quests and follow the checkpoints. Have fun!
If you like this 3D driving simulation, you can check out Miami Crime Simulator 3D!
Developer
No Outlinks developed Grand Vegas Simulation.
Release Date
May 2022
Features
Amazing 3D graphics
Exciting quests
Open map
Car and customization options
Controls
You can use your mouse in the menu, and the arrow keys or "W, A, S, D" to drive.