Play Now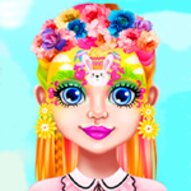 Hidden eggs can wait, but until then, we can get ready for the Easter spirit with Easter Funny Makeup! Bring out the most colorful cosmetics you have; we will try something extra for today! Out two beautiful girls want to get exclusive makeup for this jolly day, so they need the help of a pair of skillful hands. Can you style them?
Our two princesses want to get their makeup done by professionals, but today, the makeup is not just about fancy looks; we will go with a colorful Easter theme. Start with the first princess and follow the instructions to complete the basic steps of her makeup. But that's not it; after completing these steps, you can change her makeup completely and choose from various lipsticks, eyeshadows, blushes, hairstyles, hair accessories, and face paints. After adding the final touches to Eliza's makeup, you can start doing her niece's. Her makeup and accessories are completely different, but you can use a certain theme to create harmony between them. Put rabbit stickers on her face, complete it with a bunny-ear bandanna and rainbow hair, and you can set a scene with them together in front of two different Easter backgrounds! Compare two beauties and take pictures of the results!
If you like holiday-themed dressing and makeup games, you can check out Princesses Halloween Getup and help three princesses get ready for a spooky night!
Developer
DL-studio developed Easter Funny Makeup.
Release Date
April 7, 2022
Features
Easy to play
Colorful and detailed makeup options
Two girls with different styles
Easter theme
Available on mobile devices
Controls
You can use your mouse to play.