Play Now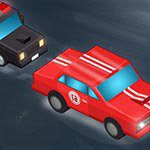 In Car Rush, you're going to have to put the pedal to the medal to avoid getting caught by the police. You're an infamous criminal whose burglary skills have no equals. You managed to pull off a successful diamond heist. But the police are getting sick of your mischievous plans. Do you think you can outrun them?
Do you hear the sirens? Mwah-hah-hah. Apparently, the robber is back in town and the cops are very angry. Your objective is to be a good boy and don't get caught. It's pretty simple, isn't it? You have to drive and drift to avoid the police at all costs. We think you don't want to face angry cops. So it's better to hit the gas. You can find dollars when you're driving around. Who can ever say no to money? Try to collect them to buy different cars and look cooler while you're escaping. You can also check the achievements and try to earn them all. There's one thing we should tell you, though. The police are ready to do anything to catch you. If they crash into you, the game's over. Toodaloo to you! But you can also try to destroy their cars by crashing into them. Try to escape for as long as you can to earn a better score. Let's hit the road!
If you want to try our other games to drift around, check our collection of online car games by clicking here. Enjoy!
Developer
This game is developed by Muhammad Shahab.
Release Date
May, 2018
Features
Different cars to unlock
Achievements to unlock
Fast-paced gameplay
Intuitive controls
Controls
Use right/left arrow key or A and D to move around.