Play Now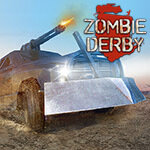 In Zombie Derby, welcome to the most thrilling zombie hunt of the game world! In a time where humanity is in danger of the undead, you have to beat them to complete your mission. You have a difficult way ahead but be confident and set fire to your enemies while crossing the obstacles lied during your journey. If you are ready to start this dangerous adventure, let's see how long you will survive!
There is an apocalypse happening in the world but it does not mean that you can disrupt your duties. You need to reach your destination by killing the walking dangers on your way. The objective of the game is to reach the finish line at the end of each level while shooting zombies before you run out of fuel. You should complete various tasks that will bring you extra powers such as ammo, nitro, fuel, speed, skin, and many others. As you kill your enemies, you will earn money in the game and you can use your earnings to upgrade your stats and buy new vehicles. Check the tasks from the main menu, the achievements button. Use your arrows to move the car, SPACE BAR to shoot, and SHIFT to activate nitro. Good with surviving!
If you want to try another exciting car game like this one, then be sure to check Soul Driver by clicking here!
Developer
Herocraft and Brinemedia developed this game.
Features
3D colorful graphics
Multiple quests to complete
Stats to upgrade
Buying new skins from the in-game shop
Controls
Arrow keys or WASD keys to move the car. The SPACE BAR to shoot and SHIFT to activate nitro.