Play Now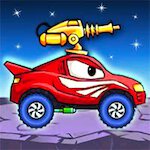 In Car Eats Car 6, brace yourself as you travel to space in this sixth installment of this popular game. After his father went on a mission to space and lost contact with Earth, the little boy decided to go on a rescue mission. In all his haste, he dropped his favorite toy car. Take control of this car and complete all the levels!
Not all cars are nice, and you'll know this if you've played other games of this series. The ones in this title are very determined to destroy you, so you better start moving. Your objective in this game is to complete each level by reaching the end portal without getting killed by your enemies. There are dozens of levels that you can play, but only the first one is available at the beginning. You can unlock the rest as you complete levels. Move forward in the level but keep an eye out for your enemies. Try to outrun them, as if they catch you, they'll attack. Collect loot boxes on each level. These will give you parts that can be used to upgrade your car. Stars are also used as a currency in the in-game shop, so collect them as well. Have fun!
Be sure to play the other game in this popular series, Car Eats Car Sea Adventure. Enjoy playing our free and online games!
Developer
SMOKOKO Ltd developed Car Eats Car 6.
Features
Dozens of levels to complete
Intuitive controls
Colorful 2D graphics
Different enemy types
Entertaining gameplay
Controls
You can use the WASD or the arrow keys to move around. Use the X key for turbo speed and the SPACE BAR to jump.